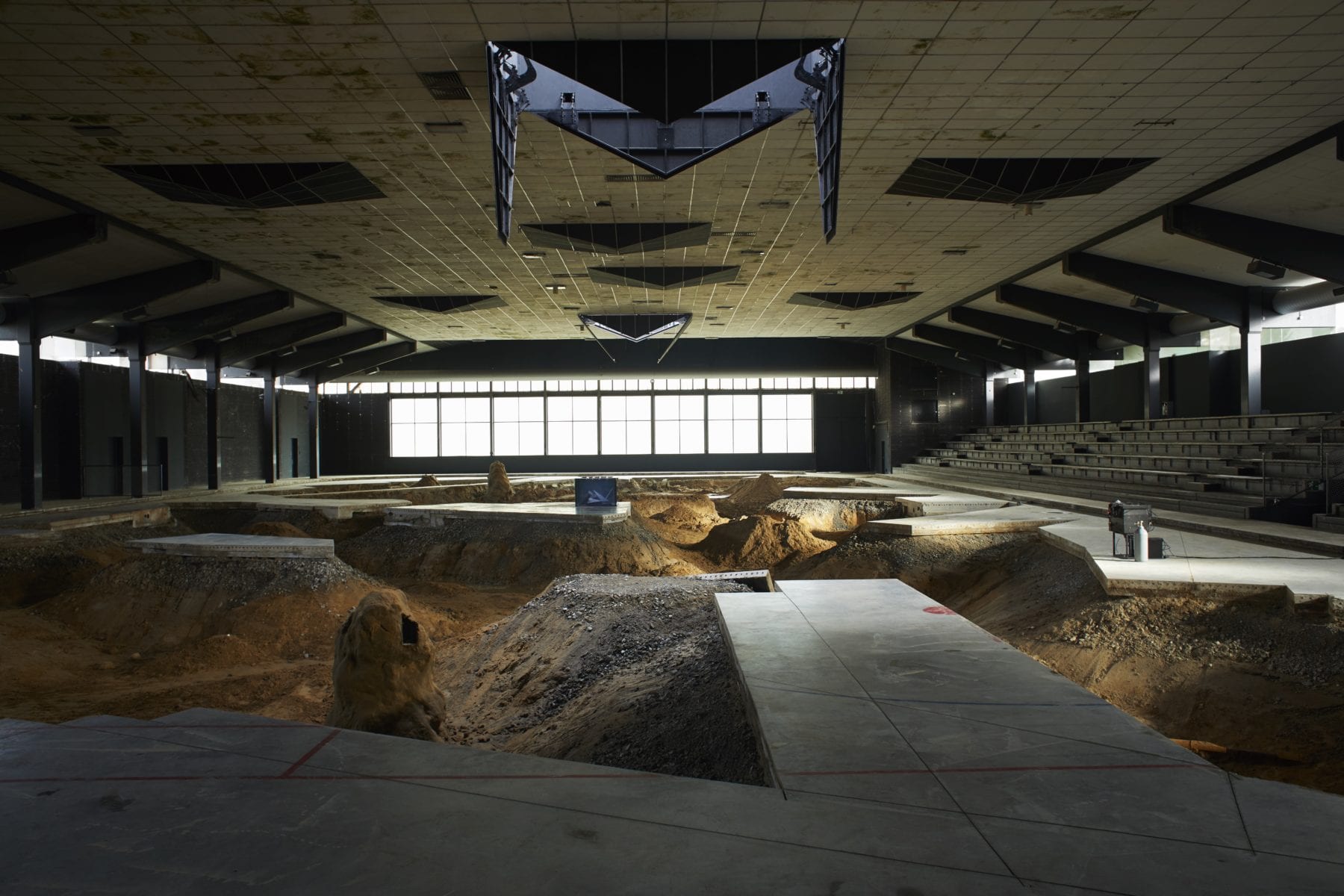 Pierre Huyghe's installation works constitute a similarly indifferent, immersive vacuum to the sound stages I talked about in my earlier post. The 2017 installation After ALife Ahead transformed Munster's former Eispalast ice rink into a potent archeological site. By removing sections of the concrete floor, digging down into the sandy earth below the rink, and opening up mechanically operated, pyramid shaped voids into the sky above, the rink impelled its inhabitants to pick their way between the mounds of earth and pools of rainwater towards its centre, where they would find a tank containing a conus textile sea snail and a bio-luminescent GloFish. The building, a former site of joy and recreation soon destined for demolition, had become host to a very specific yet sparse mixture of lifeforms, its ecosystem a control mechanism for a colony of human cancer cells growing in a closed incubator to one side of the space. The more life the building hosted, enabled by the quantities of light and air permitted – the more vital its atmosphere, the quicker the cancer would grow.  
Huyghe states that he is 'not interested in interconnected things, in relation to each other, but in their interdependency,'[1] and in letting 'self-organizing systems try either to find or to not find a symbiosis.'[2] In the case of After ALife, this symbiosis had somewhat failed, with the bees and genetically modified chimera peacocks the space initially hosted rejecting the space only for other lifeforms to take their place voluntarily – pigeons, ants, weeds growing between cracks in the concrete. Huyghe likens the influences at play within his systems to 'contaminations'[3], eschewing fixity in favour of 'porosity, leaks, accidents, contingency, dilemmas,'[4] to produce a space that is constantly shifting, denying easy categorisation or narrative. This denial of fixed logic is in keeping with Huyghe's view that the work should be 'indifferent to the public'[5] and that the indiscernibility of the work's systems are 'a way to shift the centrality of the human position—whether as a maker or receptor.'[6]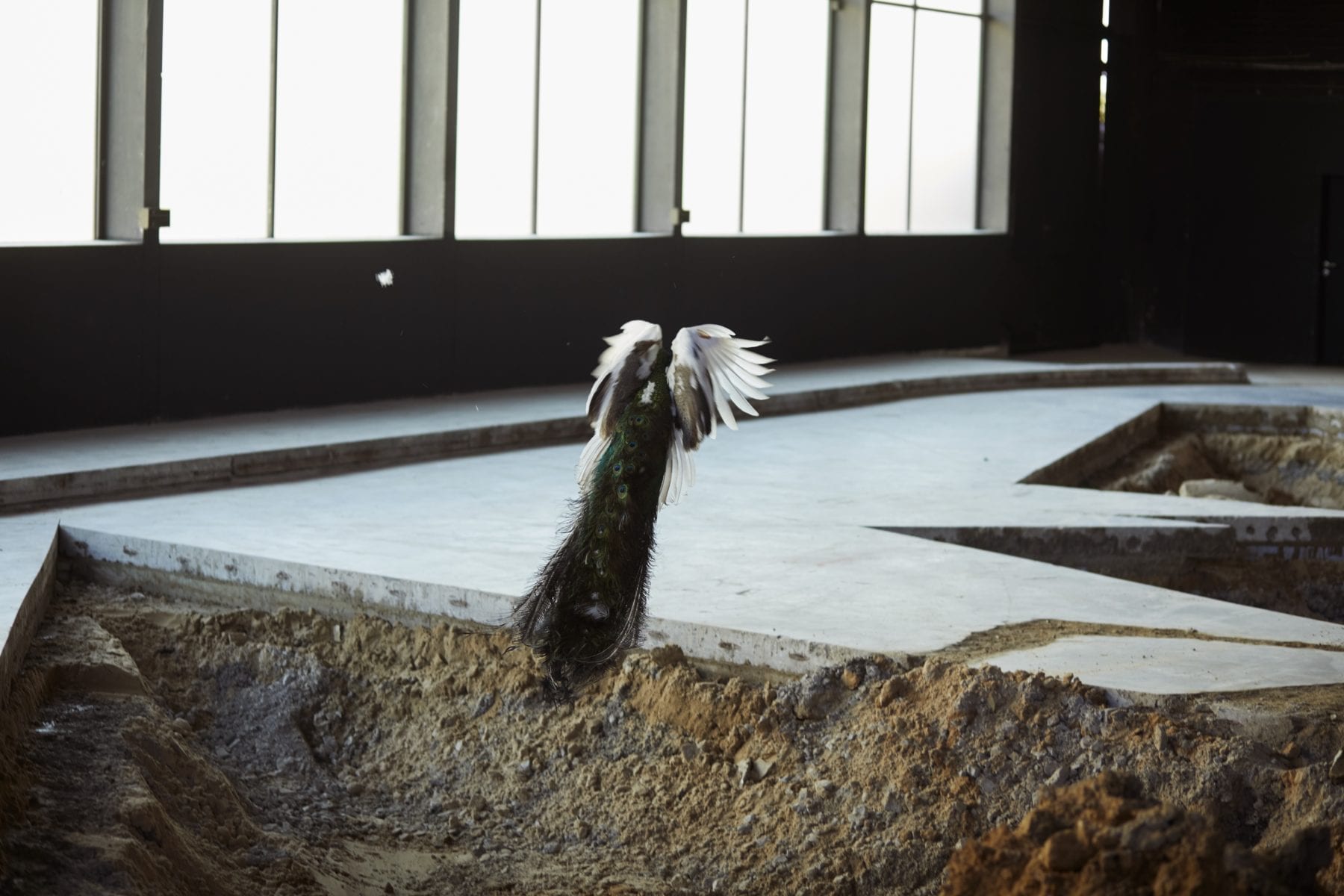 Huyghe's apparent ambivalence towards his viewers, (whom he terms 'witnesses'[7]) is seemingly contradictory to his association with Nicholas Bourriaud's relational aesthetics, with its emphasis upon the convivial, social and communal. Whilst early works such as Billboards (1994-5) which presented photographs of street locations on billboards adjacent to their site, and Atari Light (1999), which turned gallery ceiling lamps into pixels for a giant playable game of Pong, carry a more sociable charge that can easily be inserted into the relational framework, Huyghe's work since the mid-2000s has shifted away from a regard of the human subject, becoming increasingly indifferent and ambivalent. He describes the process of selection and insertion at play in works/worlds such as the installation Untilled (2012) as one of
…using personally important markers and dropping them within that place. You don't display things. You don't make a mise-en-scène, you don't design things, you just drop them. And when someone enters that site, things are in themselves, they don't have a dependence on the person. They are indifferent to the public. You are in a place of indifference.[8]
The alienation of this 'dropped in' object is also that which is at play in Trecartin's admixture (the stranded boat, the shitstorm) in which ontic reality becomes a simulated, flattened zone of the virtual, a 'sandbox' universe of avatars, scripts, artefacts and sprites. Huyghe frequently cites Jakob von Uexküll's notion of the 'umwelt'[9] – surrounding world, sometimes defined as a 'sense island', 'significant environment' or 'cognitive map'[10] – to describe such a zone. The artist used the term as the title for two of his projects; a 2011 work at Esther Schipper gallery, Berlin, in which 10,000 ants and 50 spiders were allowed to roam freely in the gallery space, and for the exhibition UUmwelt, at the Serpentine Gallery in 2018, which incorporated a swarm of flies amongst shifting images produced by Deep Neural Network imaging software. The von Uexküll umwelt is the background within which each organism forms its perceptions and functions accordingly, its actions following its specific needs and sensory inputs which become a semiotic system – an anticipation of Norbert Weiner's cybernetic schematisation of the organism in The Human Use of Human Beings (1950).
A closer reading of relational aesthetics, beyond the easy conviviality of the likes of Rirkrit Tiravanija shows that Bourriaud's interest is in relations between 'distinct units' that remain plural, rather than subsumed within the communal mass. Bourriaud states that: 'Reintroducing the idea of plurality, for contemporary culture hailing from modernity, means inventing ways of being together, forms of interaction that go beyond the inevitability of the families, ghettos of technological user-friendliness, and collective institutions on offer,'[11] and importantly invokes Felix Guattari's definition of subjectivity as reliant on the establishment of distinct territory in relation to another, wherein 'subjectivity can only be defined by the presence of a second subjectivity.'[12] This specific form of subjectivity is redolent of that found in Trecartin's movies, in which the self extends spatially, to be defined in relation to its interlocutors. This is particularly the case in I-Be Area (2007), whose organising principle Trecartin explains as:
what identifies people is not necessarily their bodies anymore; it's all the relationships they maintain with others. You are your area, rather than you are yourself. If someone describes you, that description becomes a part of your area, whether you like it or not.[13]
Bourriaid's notion of relationality remains useful to any politics or aesthetics of alienation that is not simply to be a reterritorialization of individuation and atomisation on the part of neoliberal capital. Nor is it the strive toward structuralist-functionalist societal equilibrium, in the mould of that envisioned by Emile Durkheim: 'constituted, not by a repetition of similar, homogeneous segments, but by a system of different organs each of which has a special role, and which are themselves formed of differentiated parts.'[14] Huyghe's indifferent spaces engender a dark relationality – one in which distinct beings (human or otherwise) collide but do not connect. It is cohabitation without cooperation, the state provoked by burgeoning fractal online communities of identity and micro-political difference. As in Huyghe's umwelts, infinite positions are co-hosted by shared platforms, parallel myopic paths which seldom intersect, their indifference and inscrutability only serving to enhance immersion.
---
[1] "Pierre Huyghe's Latest Project Is Part Biotech Lab, Part Scene from a Sci-Fi Film," Artsy, last modified June 19, 2017, https://www.artsy.net/article/artsy-editorial-pierre-huyghes-latest-project-biotech-lab-scene-sci-fi-film.
[2] Andrew Russeth, "Constant Displacement: Pierre Huyghe on His Work at Skulptur Projekte Münster," Artnews, last modified June 26, 2017, http://www.artnews.com/2017/06/26/constant-displacement-pierre-huyghe-on-his-work-at-skulptur-projekte-munster-2017/.
[3] Artsy, "Pierre Huyghe's Latest Project."
[4] Emily McDermott, "Pierre Huyghe: Indiscernible, Unpredictable, Irrational," Elephant, last modified December 20, 2018, https://elephant.art/pierre-huyghe-indiscernible-unpredictable-irrational/.
[5] Russeth, "Constant Displacement."
[6] Artsy, "Pierre Huyghe's Latest Project."
[7] Sjoukje van der Meulen, "Witness and presence in the work of Pierre Huyghe," AI & Society 27, no. 1 (February 2012): 25–42, https://doi.org/10.1007/s00146-011-0330-x.
[8] Christopher Mooney, "Feature: Pierre Huyghe," Artreview, last modified October 2013,
https://artreview.com/features/october_2013_feature_pierre_huyghe/
[9] Jakob von Uexküll, A Foray Into the Worlds of Animals and Humans, trans. Joseph D. O'Neil (Minneapolis: University of Minnesota Press, 2010)
[10] Geoffrey Winthrop-Young, "Afterword – Bubbles and Webs: A Backdoor Stroll Through the Readings of Uexküll," in Jakob von Uexküll, A Foray Into the Worlds of Animals and Humans, trans. Joseph D. O'Neil (Minneapolis: University of Minnesota Press, 2010), 238-9.
[11] Nicolas Bourriaud, Relational Aesthetics, trans. Simon Pleasance & Fronza Woods (Dijon: Les presses du réel, 2002), 60.
[12] "All the conditions making it possible for individual and/or collective agencies to be in a position to emerge as sui-referential existential Territory, adjacent to or in a relation of delimitation with an otherness that is itself subjective". – Felix Guattari, quoted in Nicholas Bourriaud, Relational Aesthetics, 90.
[13] Tomkins, "Experimental People."
[14] Emile Durkheim, The Division of Labour in Society, trans. George Simpson (Glencoe: The Free Press of Glencoe, 1960), 181.