The form of fandom that is obsessed with the question "could X and Y exist in the same universe?" expresses its labour not through fanfiction or fan art but through the production of Fan Theory, as a form of creative discursive practice. Often these theories are presented under the aegis that one has uncovered the 'true meaning' or 'hidden truth' behind an otherwise ambiguous detail, as seen in the proliferation of 'ending explained' videos on youtube that attempt to unpick the final sequences of Hollywood films. Whilst much of this theorising is being undertaken tongue-in-cheek, or for no productive reason other than the joy of speculation, it points towards a more general indication that contemporary fandom is about attempting to map the available territory, draw connections between canons and find contingencies and links between disparate worlds.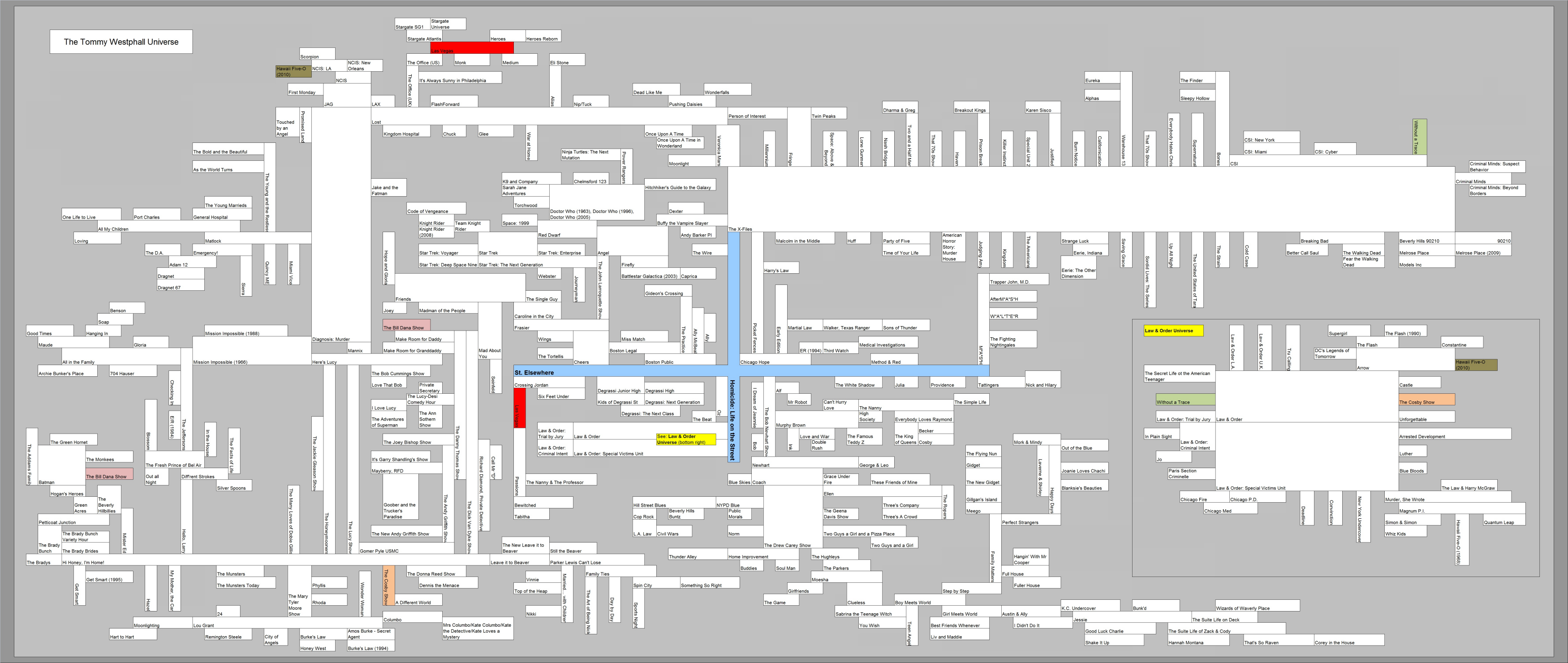 This tendency is taken to perhaps its most extreme degree in the fan theory/meme 'the Tommy Westphall Universe' (Keith Gow and Ash Crowe, 1999-), which theorises that most of the fictions of American television have taken place in the mind of an autistic boy named Tommy Westphall, a character in the TV series St. Elsewhere – the final episode of which implied the whole series had taken place in Tommy's mind. Through St. Elsewhere's crossovers and spin-offs with other dramas and sitcoms a web of interconnections is formed that, at its most recent update in 2016, included 419 shows[1] all taking place within the mind of Tommy Westphall. Some of these connections are the result of official crossovers and spin-offs instigated by television networks' desire to migrate existing audiences to new shows, such as Cheers' (1982-93) spinoff into Frasier (1993-2004) and the less successful The Tortellis (1987). Others are based upon 'Easter Egg' type details and production bleedthroughs, such as the inclusion of 'Morley' brand cigarettes – a copyright-free approximation of the Marlborough brand produced by American prop manufacturer The Earl Hays Press[2] and used frequently on-screen (for example by X-Files 'Smoking Man').[3]
Such diagrams could be posited as paranoiac works – a tendency that Hal Foster also identifies in the archival impulse of contemporary art-making. Foster states 'what is paranoia if not a practice of forced connections, of my own private archive, of my own notes from the underground, put on display?'[4] Foster points towards the Freudian paranoid, who 'projects his meanings onto the world precisely because it appears ominously drained of all significance.'[5] To some extent, the fan is also a structuralist, and the structuralist is also a paranoiac – as Freud remarked, 'the delusions of paranoiacs have an unpalatable external similarity and internal kinship to the systems of our philosophers,'[6] (what then, would the Post-structuralist be? Not the optimist Pronoiac, rather the Denialist perhaps?) The schematism of the Tommy Westphall diagram could be thought of akin to the Victor Tausk's influencing machines, with their 'boxes, cranks, levers, wheels, buttons, wires, batteries, and the like'[7]replaced by plot twists and character arcs, alongside an overarching belief that someone (or something – a universalising logic?) is pulling the levers. Eve Sedgewick states that the epistemophilia of the paranoiac is not just the simple drive towards 'unique access to true knowledge' but also offers a way of 'seeking, finding, and organizing knowledge. Paranoia knows some things well and others poorly.'[8] The fan is perhaps happy to know fiction better than reality.
The form of fan-being that is able to draw such sprawling webs of connection is reliant upon a certain suspension of scepticism, supplanted instead by a radical credulity, a willingness to encounter at face value and undertake an enhanced immersion into the world of TV. Whilst Sedgewick states that 'in a world where no one need be delusional to find evidence of systemic oppression, to theorize out of anything but a paranoid critical stance has come to seem naïve, pious, or complaisant,'[9] the radically credulous fan is both naïve and paranoid in their theorisations, eager to seek the 'truth' of worlds they know to be fictional. The radicality of such a position is in the fact that the fan-as-producer does not see the fictional canon as sacred or fixed, and could perhaps be compelled to view the political realities of Earth Prime through the same lens. The fan's sense of devotion and accumulated knowledge grants them a degree of authority to expand the canon of a shared universe, a refusal of orthodoxy that echoes Barthes' assertion that 'refusing to assign a 'secret', an ultimate meaning, to the text [is] an activity that is truly revolutionary since to refuse to fix meaning is, in the end, to refuse God and his hypostases – reason, science, law.'[10]
Such an indiscernibility between the real and fictitious, and the perceived contingencies of the two are formed by long hours of continuous consumption, in which the shared platform (i.e. same channel/same hardware) implies the same universe. Media theorist Raymond Williams framed such a relationship in terms of flow in his work Television: Technology and Cultural Form (1974) where he states that 'planned flow, is…the defining characteristic of broadcasting, simultaneously as a technology and as a cultural form'[11] and that in such a flow could be found the 'meanings and values of a specific culture.' The contemporary mediascape is split between the fixed immersive flows of streaming platforms like Netflix or Amazon Prime, with their autoplay technology and predictive algorithms designed to lead viewers down binge watch cul-de-sacs, and the scattergun admixture of YouTube, Facebook or Twitter, in which attention is fleeting and transient, always accompanied by the spectre of infinite choice.
[1] "The Master List : The Tommy Westphall Universe," accessed August 9, 2019
https://thetommywestphall.wordpress.com/the-master-list/.
[2] "Earl Hays Home Page," Eral Hays Press, accessed August 9, 2019, http://theearlhayspress.com/tobacco.html.
[3] "Morley: Tommy Westphall Universe" FANDOM powered by Wikia, accessed August 9, 2019,
https://tommywestphall.fandom.com/wiki/Morley#Red_box_Morley.
[4] Hal Foster, Bad New Days, (New York: Verso Books), 59.
[5] Foster, Bad New Days, 59.
[6] Sigmund Freud, The Standard Edition of the Complete Psychological Works of Sigmund Freud, ed. James Strachey, trans. James Stracehy et al. (London: Hogarth Press, 1953-74), vol,17, 261.
[7] Victor Tausk "On the Origin of the "Influencing Machine" in Schizophrenia," Psychoanalytic Quarterly Vol 2 (1933):, 519-556, accessed September 2, 2019 at https://www.ncbi.nlm.nih.gov/pmc/articles/PMC3330285/pdf/184.pdf.
[8] Eve Kosofsky Sedgwick, "Paranoid Reading and Reparative Reading, or, You're so Paranoid, you Probably Think This Essay is About You," in Touching Feeling (Durham: Duke University Press, 2003), 130.
[9] Sedgwick, "Paranoid Reading and Reparative Reading," 126.
[10] Roland Barthes, "The Death of the Author," in Image Music Text, ed and trans. Stephen Heath
(London: Fontana Press,1977), 147.
[11] Raymond Williams, Television: Technology and cultural form (London: Routledge Classics, 2003), 86.